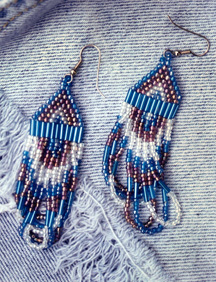 Blue Crystal Loop Earrings
Original design using Czech Seed Beads by Susan Sapronetti

Right for any occasion! These authentic Native American made beaded 2" long earrings are real eye-catchers with Crystal, Blue & Purple seed beads and blue bugles. You can specify your own colors and have these made to order. Limit three (3) colors per pair. Gold or silver French hooks.