In the darkness of the night,
we walked alone in our thoughts.

I stopped not to gaze upon Lincoln
in his magnificent chair, but
to catch my breath and wipe a tear.

Continuing down the dark walk,
vendors selling their wares to my right,
onward we walked, alone in the night.

Three men, standing tall and proud,
the guns in their hands silent...but loud.
Farther I walked, through the valley of names.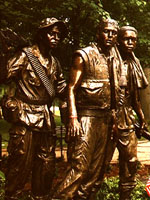 Three Soldiers, 1996
Copyright Keith Brown