With the ever-growing body of online records, it was inevitable new records would emerge.  As the body of digital (and text searchable) records continue to grow, it is inevitable even more evidence will emerge in the years to come.
Key pieces of this new evidence are show and discussed below.
James B. Ward, John Ward, and Nathan Ward were living in Florida prior to 1820 (see Figure 2).  All three of them paid $0.50 in taxes in Jackson County, FL on July 4, 1820 – which would imply they were living there at least a year and possibly make them residents of Jackson County on or before July 4, 1819.
Figure 2 – 1820 Jackson County Tax Records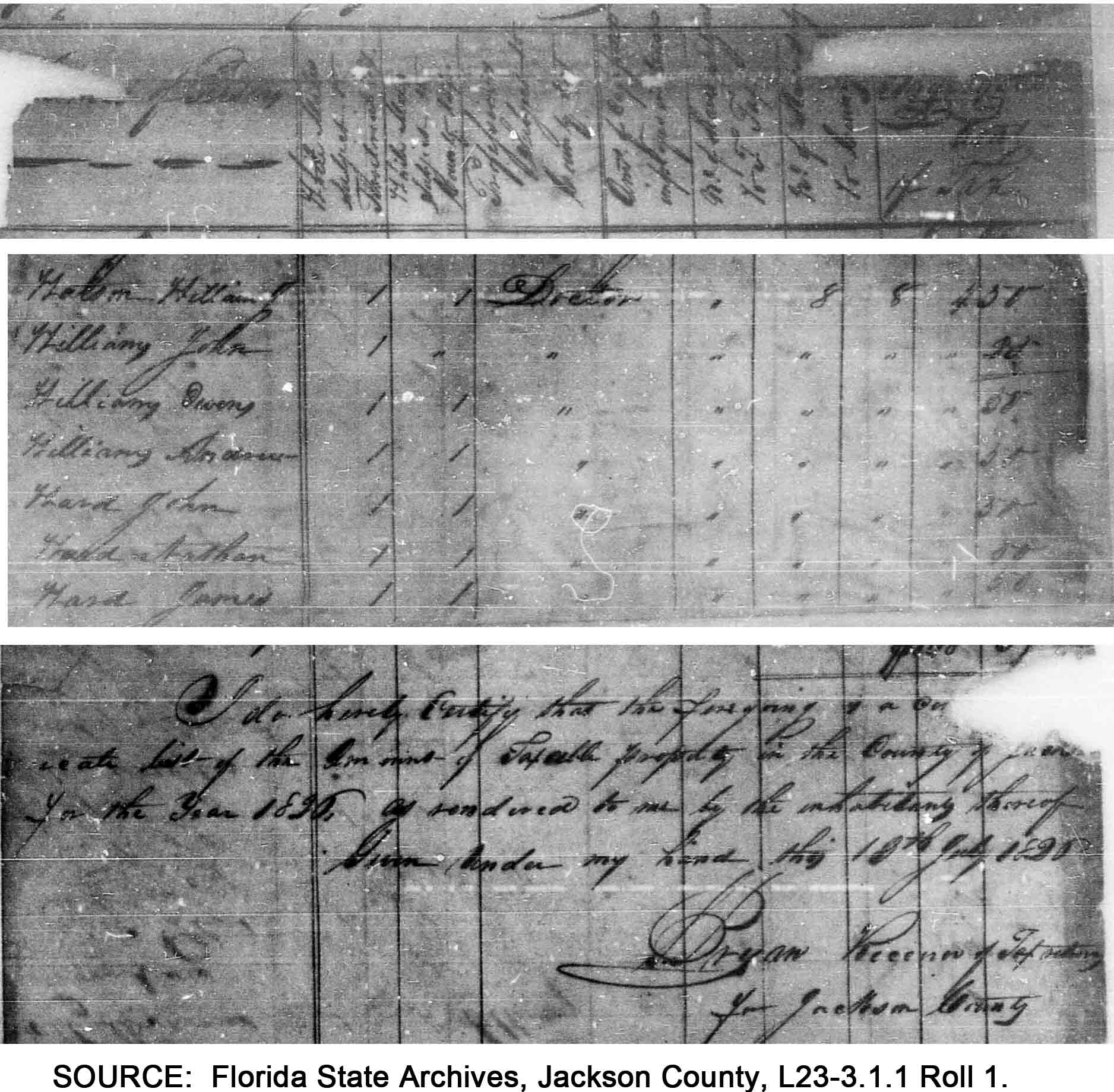 Click image for larger view.

While Jackson County was not "officially" formed until 1822, it collected taxes for the first time in 1820 and Nathan, John, and James Ward were listed on their tax rolls (see Figure 2).  The State of Florida did not participate in a Federal Census until 1830 and the first Florida State Census occurred in 1845.  Therefore, early residents of Florida will not appear in any census searches prior to 1830. This new evidence proves James B. Ward, John Ward, and Nathan Ward were living near each other in FLORIDA prior to Florida becoming a U.S. Territory in 1821!!!!
But wait a minute ….. Jackson County did not become an official county until 1822.  Why were taxes being collected in 1820 by a county that did not exist?
My searches for an answer to this question have been unsuccessful. One reason may be associated with the length of time it took Florida to set up its government.  It took time for settlers in the Jackson County area to established a local governmental body and for the State-level government to approve the creation of the new county. In 1822, Florida had existed as a U.S. Territory for only one year but settlers had been arriving as early as 1819.
I think it is important to stop and provide a more detailed history of this region of Florida.  What was it like to live in this area in the mid-1700s and early 1800s – which was the time span of James B.'s childhood and his father's lifetime. What would draw people to this area?  What business opportunities existed? Was it just free land?  Using Nathan's estimated birth year – 1788 – we can estimate Nathan's father was at least 20 years old when Nathan was born, which means his father had to be born on or before 1768.  Using this estimated date, we can pick up the history of this area starting around 1750.1
Dale Cox, a well-known and respected North Florida historian offers the following early history of Jackson County, FL in his book The History of Jackson County, FL: The Early Years:
"For decades the area that is now Jackson County was an unpopulated wilderness. Native American hunters occasionally passed through, but there were no towns or villages and the old Chacato and Euchee (Chisca) sites were reclaimed by the forest. Then during the mid-1700s, new residents began to drift into the region.
Small groups of Upper and Lower Creeks from Alabama and Georgia, noting the unpopulated lands and rich hunting grounds just below the Spanish line, slowly made their way down the Chattahoochee River and into North Florida. The Spanish encouraged these migrations, hoping that the Native American bands would provide a first line of defense against the English colonies to the north. They sent traders into the area to conduct business with the new inhabitants and the settlements slowly grew."2
I have not been able to locate materials identifying the names of these "traders" – but the possibility that one may have been named "Ward" is intriguing.
At the end of the French & Indian War in 1763, Florida was surrendered by Spain to England and twenty years of British occupancy began.  The British establish a colony, government, laws, and relationships with the Indians.
By now, there are several Creek villages established in the future Jackson County area:
The Indians in these towns had enjoyed good relations with the Spanish who had done little to encroach on their lands. By now, many in these villages were also mixed-bloods having both Spanish and Creek ancestry.  It was essential for the British to establish good relations, and these traders were critical to their success. The Indians, on the other hand, were well aware of what the English Colonies in Georgia and the Carolinas had behaved.9
Three Ward gentlemen – Daniel, John, and Benjamin – become active in British government working primarily out of Pensacola.  These three men have strong ties to Charleston, SC.  To date, nothing has been found to connect these three brothers to our James, Nathan, or John.10
During this time there are two primary roads leading from Pensacola to St. Augustine that pass through present-day Jackson County.  These two roads appear to have existed as far back as the 1670s.  One led from the Apalachicola River to Econfina passing near Blue Springs and Florida Caverns State Park.  The second ran across the northern part of Jackson County loosely following the present-day path of State Highway 2.11
Our history books on the Revolutionary War (1776) talk about the original 13 colonies fighting for their freedom and winning.  But, it underplays the involvement of two other colonies – the British Colonies of East & West Florida and the French Colony of Canada.  Our James B. was born in 1796 – just 20 years after this war.  Nathan was born in 1788 – just 12 years after this war.  That means Nathan's father (and probably James B.'s father) was already alive and living somewhere during the Revolutionary War.  The British strengthened their relationships with the southern Indians during this war in order to strengthen their own armies and borders.  Which also means military personnel, Indian Traders, and others would have been in the Jackson County area for one reason or another.
Dale Cox, shares the following story of British activity during the Spring of 1778:
"The expedition set out in July under the command of David Holms and after traveling for a number of days crossed the Choctawhatchee River and arrived at Benjamin Steadham's trading post in present-day Holmes County. There they obtained a fresh supply of provisions and met with a group of Okchoi warriors, descendants of the Chacato who had once lived in the region. The warriors agreed to take part in the campaign and promised to follow a few days behind the main force. The road the British followed was the path described eleven years earlier by Lieutenant Pittman. It crossed northern Jackson County along the approximate route of today's State Highway 2.
"After resting briefly at Steadham's, the British continued their march and crossed Holmes Creek, then called the Weekaywee Hatchee ("Spring Creek"), into Jackson County on the morning of July 23, 1778. They continued to a place they called the Coosa Old Fields. Here, on ground that had once been cleared by the Chacato, they found a small settlement of people from Puckanawhitla (James Burgess' "second home" on the Flint River), but because the chiefs were away, they were unable to convince the warriors to join their march.
"A noted mapmaker, Joseph Purcell, was among the British making the trip and the chart and itinerary he prepared of the expedition indicates that the Coosa Old Fields were in the vicinity of the modern community of Campbellton. He described the path being followed by the British as "small and little trod." Its use would increase over coming years and traces of it can still be seen today where it cuts deeply into the soil between Campbellton and Malone.
"July 24th was spent crossing a series of bad swamps and creeks in the area known today as the "Forks of the Creek." Located between Malone and Campbellton, this is the point where Cowarts and Marshal Creek unite to form the Chipola River, which the British called the "Chanpooly." Purcell noted in his itinerary that "Chanpooly" stood for "Sweet Water," probably the origin of the local tradition that the name of the river is Choctaw for Sweet Water. In reality the word Chipola is corrupted from an old Chacato term and its meaning is now uncertain. Use of the word had first been recorded by the Spanish one hundred years before the British march.
"… The British reached the village of Ekanachatte at Neal's Landing on Saturday, July 25, 1778. According to Holms, they were welcomed warmly by the Bully and his people.
"[The Bully] told them that the American "Rebels" were marching on St. Augustine and that the British needed their help to defend Florida. He also warned that the "Virginians," as the Indians called them, would encroach on Creek lands and stop their supplies. If they succeeded at St. Augustine, Holms pointed out, the Americans would next target Pensacola and to get there would of necessity invade the Creek Nation."12
By 1783, just five years later, the British move out and Spain takes over Florida.  It is unknown what happens to the Indian Traders – many of these men operated independently of the presiding government and probably stayed.  It is also possible some of the existing residents of British or American origins also stayed on the land they settled. The Panton and Leslie Trading Company located in Pensacola was in its peak and commerce centered around them.
Skipping forward 34 years, the War of 1812 and Creek Indian Wars send Indians from northern towns into Florida – which is now a poorly managed Spanish Colony.  The existing Indian towns open their doors and all of the Indian Towns began a rapid expansion.
Moving forward in time and getting closer to 1819, when James B. is found living in Jackson County, FL, Dale Cox relays the following:
"Alarmed that the war in the Creek Nation might spill over into Florida, Thomas and William Perryman [Creek Indian Chiefs] decided to seek assistance from their old allies, the British. The United States was then in conflict with England in what became known as the War of 1812 and the Perrymans rationalized that the British might be interested opening a new front on the Gulf Coast or at minimum supplying the refugees. …
"With the English high command already considering a move on New Orleans, it was thought that an organized army of Native Americans operating from Florida might prove beneficial to their cause. This force could move against American supply lines and apply pressure in Georgia while the main British force struck at New Orleans. Two officers of the Royal Marines, Lieutenant Colonel Edward Nicolls and Major George Woodbine, were sent to Florida with weapons, ammunition and other supplies for the Creeks and Seminoles.
"… The chief Econchattimico ("Red Ground King") who had assumed leadership of Ekanachatte after the death of "the Bully," also allied himself with the British, as did the Mulatto King of Tomatley.
"… When U.S. troops descended the Chattahoochee River in June of 1816 and established Fort Scott on what is now the Georgia side of Lake Seminole, William Perryman was quick to open good relations with the soldiers, as was the Mulatto King of Tomatley. Thomas Perryman had died the previous year."13
During the First Seminole War (1818), Andrew Jackson traveled through Jackson County, FL.  The county is actually named after him.  He "cleaned out" the British supporting fractions by chasing them further south and left "friendly Indians" as well as many hiding in caves and the woods. Jacksons' topographer, Captain Hugh Young, took detailed notes of their travels and constantly marveled at the beauty of the land.  Over the next two years settlers began pouring into the land.
Dale Cox, in The History of Jackson County, FL: The Early Years, goes on to say:
"The smoke had barely cleared from the First Seminole War when the first settlers began to make their way back to the rich lands they had explored with Andrew Jackson in 1818. It was a risky proposition at best. The area that would become Jackson County was still Spanish territory at the time and there was the possibility of violent confrontation with Native American warriors still angered over their losses in the war.
"Despite such dangers, however, several dozen frontier families had appeared in the area by 1820. Their initial settlements were along Spring Creek in the Campbellton area, on the Ekanachatte site at Neal's Landing and along the Apalachicola River south of the Native American towns of Tomatley and Choconicla. …
"Some of the names of these first settlers are recognizable in Jackson County today. The Spring Creek settlement, for example, included John Williams, James Falk, William T. Nelson, Abraham Philips, Benjamin Hamilton, Owen Williams, Micajah Cadwell, Joseph Parrot, John Ward, Nathan A. Ward, William Philips, James Ward, Andrew Farmer, Robert Thomas, John Hays, Samuel C. Fowler, Nathaniel Hudson, Wilie Blount, Moses Brantley, Robert Thompson, Guthrie Moore, Stephen Daniel, John Gwinn, John Jones, Allaway Roach, Henry Moses, Joel Porter, Simeon Cook, James C. Roach, John Smith and Presley Scurlock.
"…. Despite the tensions that must surely have existed, incidents between the early settlers and Native Americans still living in Jackson County seem to have been rare. Econchattimico had assembled a group of several hundred followers at Tocktoethla, but following the destruction of Ekanachatte did all he could to preserve peace with the whites. So too did Mulatto King, who assumed permanent leadership of both Tomatley and Choconicla following the death of Yellow Hair. The villages grew considerably following the war due to the arrival of refugees from the destroyed town of Attapulgas in what is now Decatur County, Georgia. Mulatto King welcomed these displaced individuals and allowed them to settle on lands adjacent to his villages.
"In truth, the Native Americans living in Jackson County between 1819 and 1821 probably lived much better than their white counterparts. While the early white settlers were struggling to build crude log cabins and clear fields, many of the Native Americans – particularly those of Tomatley – enjoyed a prosperity that they had spent years developing. Claims later filed by many of these people indicate that they owned cabins, houses, mills, orchards and fields. A woman named Polly Walker, for example, reported that she owned a dwelling house, two cabins and an orchard of 32 fruit trees. Joe Riley owned a house and improvements valued at $1,150, a substantial amount for the time. Econchattimico reestablished himself at Tocktoethla by clearing 73 acres of land and building a cabin, corn crib, shed, three log cabins, a summer house and two mills. His fields were surrounded by fences built using 14,280 rails.
"… These early settlers were just the advance guard of a coming tidal wave. The floodgates opened in the fall of 1821 when Andrew Jackson officially accepted the transfer of West Florida from Spain. Sixty-two settlers and their families were living in the area of present-day Jackson and Calhoun Counties when the transfer took place, comprising a total population of perhaps 300 people (exclusive of Native Americans, who were not counted by census takers). In less than four years the population of the area exploded to 2,156 and the number of individual homes increased from 62 to 213."14
But there is another story unfolding about this time – the story of the "Friendly Indians" living in Northwest Florida.  As noted above, these Indians were adopting "white" ways of living.  In other words, they were moving toward integrating with the European population.
The first "reservations" were created in Florida with the signing of the Treaty of Moultrie Creek in 182315 (4 years AFTER James B. was documented living in FL).  The Indians in NW Florida had fought beside Andrew Jackson and against the Seminoles in eastern and southern Florida.  The addendum to this treaty, which is often overlooked, addressed the issues of the Friendly Northwest Florida Indians:
They did not want to be called "Seminoles,"
they wanted to continue to live on land they currently occupied in Northwest FL, and
they had helped the Americans and were their friends. 
However, the United States didn't cut them any slack and established six reservations in the Panhandle.  Today, researchers have studied the signatures on the Moultrie Creek Treaty and tried to reconcile them with the tribes represented as well as a list of tribes Neamathla provided.  To-date, all of the tribes in the Northwest FL area have not been accounted for.16
Now that we have a better understanding of the history, events, and possible reasons for someone settling in Jackson County, FL – as well as the Indian situation – let's continue looking at the records to see what else we can learn about James, John, and Nathan Ward of Jackson County, FL.
If Jackson County, Florida collected taxes in 1822 and 1823, those records no longer exist.17
However, the 1824 tax records do exist.  They show only John and Nathan paid Jackson County taxes in 1824:
John Ward indicates he has one white person and no slaves. He also reports he owns 19 cattle and 560 (rails of?) fence. 
Nathan Ward appears on the following page. He has 1 white person, no slaves, 16 cattle, and 400 (rails of?) fence. 
It is unknown why James is not listed.  By 1824 James is already married and has two sons:  John Jackson Ward (1821) and James Madison Ward (1823).
Figure 3 shows the 1824 Tax entry for John Ward.  It is interesting to note the other men around John Ward also have 15+ cattle and various amounts of fencing.
Figure 3 - 1824 Jackson County, FL Tax Records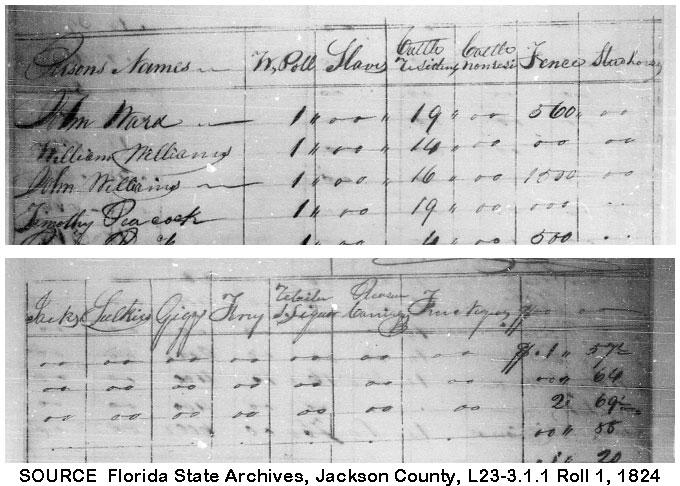 Click image for larger view.

This new evidence makes it clear the James Ward living in Wilkinson County, GA is NOT the same person as James B. Ward.  This evidence also strengthens the connection between James B. Ward and John & Nathan Ward making it more likely they were brothers.
While the children of Nathan Ward are not proven, it appears Nathan may have been living in Spanish West Florida by 1819 when his [unproven] son, William, is born.  William Ward (1788-bef 1880) consistently reports he was born in FL around 1819 on future censuses.  William's wife, Mary Sylvester (born about 1829), also reports she was born in FL.18
Other evidence strengthening the connection between James B. Ward and Nathan Ward is:
The Elliot/Ellis women that appear in the household of James B. Ward and Nathan Ward in the 1850 census provide proof that James B. and Nathan Ward are connected and possibly brothers.19
The two appear near each other on the 1830 Dale County, AL census.  John also appears as a neighbor of James and Nathan Ward.20
Based on this new evidence, we can now modify the timeline for James B. Ward's early life:
1813 – GA:  Hartford, Pulaski County - enlistment as a spy
1814 – GA:  Hartford, Pulaski County - discharged
1815 – GA:  Baldwin County - 19 yr old James Ward paid taxes
1815 – Unknown
1820 – GA:  Wilkinson County – Appears on census with wife and elderly woman
1820 – James B. Ward's father was dead by 1820
1820 – FL:  Jackson County – John, James, & Nathan Ward pay taxes
1821 – GA:  Birth of first son, John Jackson Ward on Feb. 16, 1821
1821 – FL:  Jackson County – Listed as resident on 1824 Land Claim
1822 – GA:  James' land on Nat's Creek in GA is sold for fi fa
1824 – FL: Jackson County – John and Nathan pay taxes
1827 – FL:  Jackson County – Signed Petition
1829 – FL:  Jackson County - Sold Land
1830 – AL:  Dale County – Appears on census next door to John & Nathan Ward
1837 – AL:  Dale County – James English estate settlement records
1840 – AL:  Dale County – Appears on census
1850 – AL:  Dale County – Appears on census and children are named
Items in bold are new or updated, and those with strike-through lines are no longer valid.
We can now PROVE James B. Ward was living in Florida in 1820 (possibly 1819) – which means the James Ward found on the 1820 Wilkerson County, GA census is NOT our James B. Ward.
It also means all of the evidence associated with Key Point #5: Lived in Wilkinson County, is possibly no longer relevant.  This includes the conclusion that James B.'s father must have died prior to 1820 and his mother was living with him and Elizabeth on the 1820 Wilkinson County, GA Census.
Now that we no longer have any clues as to when James B.'s father died, ALL of the theories using the assumption he died in 1820 are no longer valid.
---
FOOTNOTES