But where did James B. Ward live prior to 1819?  This remains a mystery.
However, we do know he enlisted in the military in 1813 when he was 17 years old.  We know he physically stood in Hartford, GA and enlisted.  However, we do not know where he lived, nor how far he traveled to reach Hartford, GA.  A closer look at these records may reveal more clues……
But first, we need to take a detour and learn a little more about the War of 1812 and how records were kept.
The War of 1812 was fought between the United States and primarily Britain between June 1812 and February 1815.  The United States "sealed" their independence by winning this war.  The United States had a very small army (i.e., trained & paid military personnel) so they relied heavily on volunteers who typically enlisted for only a few months – which allowed early settlers to contribute to the war effort and also maintain their homesteads.
Unfortunately, very little information was collected on volunteers – typically just their first and last name, place where they enlisted, and commanding officers.  For people with common names, such as John Smith, it is impossible to tell one John Smith from another – unless there is additional information known or passed down about that individual's service.  More than 40 men enlisted during this war with the name "James Ward" and even more as "James Word," "James Warde," and other variations of the name.  Most of the volunteers could not read or write, which means the enlisting office "guessed" at the correct spelling of their name.
Towards the end of James B. Ward's life, the government offers Bounty Land to veterans.  The War of 1812 veterans had to reach back 50+ years to remember enlistment dates, names, places, etc.  Records make it clear most had difficulty remembering the key pieces of information required to prove their service and eligibility.
Because James B. Ward took advantage of this opportunity, we can easily wade through all of the similar names and identify his War of 1812 enlistment records!  To piece together all of the evidence, we will start with his Bounty Land Claim.
In 1859 he attempted to get more land by filing his claim for a military Bounty Land Warrant.  A successful claim would result in "free" land in recognition of his service in the military.  He hired an attorney – S.S. Curry, of Abbeville, AL – to help him with this process.   Abbeville was the county seat of Henry County and about 35 miles from James B.'s home (north of present-day Malvern, AL).
Below is a transcription of this letter:1
State of Alabama
County of Dale
On this twentieth day of January, AD, one thousand eight hundred and fifty nine, personally appeared before me, Ezekiel Watford, a justice of the peace, within and for the county and State aforesaid, JAMES WARD, age 63 years, a resident of Dale County in the State of Alabama, who having duly sworn according to laws declares that he is the identical James Ward, who was a private in the company commanded by Captain John Thomas in the Regiment of Georgia Militia commanded by Major Patten in the War with Great Britain declared by the United States on the 18th day of June 1812, that he volunteered at Hartford on or about the first day of January AD 1814 for the term of two months, and continued in actual service in said war for the term of fourteen days and was honorably discharged at Hartford on the first day of March AD 1814.
He makes this declaration for the purpose of obtaining the bounty land to which he may be entitled under the act approved March 3, 1855.  He also declares that he has not received a warrant for bounty land under this or any other act of congress.
James Ward
---
We, John W. Taylor and Lemuel C. Wadford, residents of Dale County in the State of Alabama, upon our oaths, declare that the forgoing declaration was signed and acknowledged by James Ward in our presence and that we believe, from the appearance and statements of the applicant that he is the identical person he represents himself to be.
John W. Taylor
Lemuel C. Watford
---
The foregoing declaration and affidavit were sworn to and subscribed before me on this day and year above written; and I certify that I know the applicants to be credible persons; that their claimant is the person he represents himself to be, and that I have no interest in this claim.
Ezekiel Wadford, Jr.
Who are John W. Taylor, Lemuel C. Watford, and Ezekiel Wadford, Jr? 
A quick review of the 1860 Census (which was conducted the following year) for the Newton Post Office area of Dale County – which is exactly the same place as James B. lived, we find recorded as dwelling #1296:  Lemuel C. Wadford (age 30) and his wife, Nancy A.D. Wadford (age 22), both born in SC, are living with their one-year old child (George H) and a 10-year old girl named Martha M. Jordan.  Lemuel is a farmer and estimates the value of his personal estate at $100 and real estate at $120.  On May 1, 1861, two years after making the above statement, Lemuel C. Wadford purchased land located in present-day Houston County, AL, about 2 miles north of the Spring Creek head waters and about 3 mile "over" the Dale/Houston County line.  The land patent identifies him as "Lemuel C. Watford of Dale County, AL."  Ironically, the land he purchases is within a few miles of the land James B. sold when he moved from FL to AL.2
A John W. Taylor, John Taylor, or John Tailor does not appear on the 1860 U.S. Census as a resident of Dale County, AL.  However, several men with this name exist in Coffee County, AL (which was part of Dale County until 1841). The identity of this John W. Taylor remains a mystery.  Maybe his home was skipped during the 1860 census, or maybe he moved, or he could have died. 
Ezekiel Watford was appointed to the position of Justice of the Peace for Dale County on April 8, 1857.  He had been in office for two years when James B. filed his claim.3
Everything looks good for this being a positive match to our James B. Ward.  In his application file, the story continues with the following letter:4
Abbeville, Ala
January 27th 1859


Comm of Pensions
Washington DC


Dear Sir, Enclosed is the application of Jas Ward for a bounty land warrant which you will investigate as early as convenient and send the warrant to me. Jas Ward volunteered at Hartford on or about the 1st day of January 1814 from then until he was discharged about the 1st of March 1814 he was in the most laborious service of any other man in the company in which he was in, being sent off by his commander as a spy, to watch the movements of the Indians having in company with another soldier lay in the woods among the Indians one night in the camp the next being all the time the most laborious and hazardous services that could be performed by any soldier he received his pay regular and was honorably discharged at Hartford, Georgia about the first day of March A.D. 1814 and was in actual service for two months the time for which he volunteered he is now old and needs his warrant there is none of the company living at any place within his knowledge but hopes you may find some record of his services on of the pay roll.


Yours very respectfully
S. S. Curry
Exactly what did a spy do during the War of 1812?  Where were the Indians in 1812?  What did the territory look like back then?  The following map showing counties in 1814 helps answer some of these questions:
Figure 14 - 1814 GA, FL, and AL Map


Click image for larger view.

As far as what a spy did, the following quote from Stephen F. Miller, author of Memoir of Gen. David Blackshear -- Including letters from Governors Irwin, Jackson, Mitchell, Early, and Rabun, and from Major-General Mcintosh, Brigadier General Floyd, and other officers of the Army in the War of 1813-14 on the Frontier and Sea Coast of Georgia, published in 1858 gives a good description:
"The troups under the command of Gen. Blackshear were employed at various points on the frontier, mostly at the stations following: Fort Adams, Chauncey, Daniel, Defiance, Early, Floyd, Harrison, High-Shoals, Jackson, Laurens, Madison, McIntosh, Mitchell, Navahope, Newnan, Perry, Pinckney, Seven Stands, Smith, Telfair, Twiggs, and Washington. The march of the army to the seaboard is fully shown in the dispatches.
"To render the force still more effective, a number of men not otherwise with the army, such as were acquainted with the country and the habits of the Indians, were employed to act as spies and to report their discoveries within a sphere designated. This special service required active and hardy men who could approach the camp of the Indians unobserved or otherwise ascertain their plans. The names of these spies, about fifty in all, appear in the rolls in connection with the several forts to which they were assigned."5
While he is not talking about the actions of Captain Thomas, we can assume other commanders during the War of 1812 were following a similar strategy when using spies.  The following letter, also provides insight into "spy" behavior during this war:
Letter to Coe-e-maut-lau, of Cassetau. To be read by Brig. Gen. Blackshear (he left Fort Mitchell at 2PM 1/11/1815).


Co. Hawkins, Agent, to the Chiefs of Am-mic-cul-le


The time is come when we are to compel our enemies to be at peace, that we may be able to sit down and take care of our families and property without being disturbed by their threatening and plundering of us.
General Blackshear is with you to protect and secure the friendly Indians on your river, and to aid in punishing the mischief-makers. Go you to him; see him; take him by the hand, and two of you must keep with him. You must point out sixty of your young warriors, under two chiefs, to be with, and act under the orders of, the General till you see me. He will supply them with provisions and some ammunition.
You must be very particular about spies. You know all the friendly Indians, and all who are hostile. If any spies come about you, or the hostiles, point them out to the General. And your warriors acting with the General must be as quick and particular as his white soldiers to apprehend or put to death any enemy you meet with. Your warriors will receive the same pay as the soldier in the service of the United Sates.
Tell your women and children not to be afraid, -- that friends have come for their protection, and that I am at the head of the Creek warriors. I am your friend and the friend of your nation.6
James B. Ward's application was assigned Case Number 297-490, and, on April 30, 1859 a review resulted in his name NOT being found among the soldiers listed on the Roll of Captain John Thomas' Company of Georgia Militia.  He was required to submit more information. 
This was very common for those who served in the War of 1812.  The United States did not offer bounty land claims for these soldiers until 1855 – over 40 years after they completed their service!  In many cases, their fellow soldiers had died or moved away and no one was left from their unit to corroborate their story.  It was up to them to find someone who could vouch for them.
Six months later, on September 13, 1859, a letter is sent changing his attorney from S.S. Curry (in Abbeville, AL) to P.M. Henry (in Washington DC):
Sir, you will please take charge of the claim of James Ward filed by me in January last.
Yours
S.S. Curry
To the Commissioner of Pensions
I hereby authorize P. M. Henry, esq of Washington D.C., to prosecute the Bounty Land Claim of James Ward, No 297.490 filed by me under the act approved March 3, 1855 and to receive the Warrant when issued.
Abbeville, AL
September 13th 1855
S.S. Curry
Atty for Claimant
That same month, on September 28, 1859, another document is added to Case Number 297-490 by Power of Attorney, P.M. Henry.  It says James Ward "served under Colonel Harris, Georgia Militia, 1813-14."
Is this changing the command structure and adding the name of the Colonel?  Did Captain Thomas report to Colonel Harris?  Previously, he said he served under Captain Thomas and Major Patton.  Or, could this mean James B. Ward volunteered twice?
Two months later, on October 8, 1859, the following letter is added to Case Number 297-490:
Abbieville, AL
October 8, 1959
Capt. P. M. Henry
Dear Sir,
As I am sure that I served in the companies of Captain James Ware's and others of Col. Harris Regiment of Georgia Militia for the War of 1812, I wish you to search the rolls of said companies for my service as I feel confident you will find it on the rolls.
James Ward
Blest Lenoir Lasitter
Ah ha!  This must mean he has TWO enlistments!
NOTE:  There are TWO men by the name of James Ward who serve under Harris's 1st Regiment. Their files have been ordered from the National Archives. Additional info to be added when these documents are received.
The following week, on October 15, 1859, another update is placed in the file saying Power of Attorney, additional evidence:  James Ward, Pvt. Captain James Ware's Company, Col. Harris's Regiment, Georgia Militia, 1813-14.
An entire year passes before another update is made to James B.'s case file:
Land Act 1855, No 297.490
Washington DC, Sept. 15, 1860
Sir:
I would be pleased to hear from the long pending bounty land application of James Ward, who served in the Georgia Militia, War of 1821. Does he not claim service in Captain James Ware's Company in Colonel Harris' Regiment of Georgia Militia in 1813 and 1814?
Very respectfully, P.M. Henry
The "face sheet" of James B.'s case file indicates another letter was sent on October 10, 1860, but a copy of the letter is not included in the file.  The case file sheet created by the National Archives indicates his claim was denied.
However, the real story may be "no further action was taken" and the case was "denied" by default.
James B. Ward died on August 26, 1861 – less than one year after the last letter was sent.
Today, as more and more old records are digitized, indexed, and made searchable, it is far easier to find supporting documents to James B.'s military claim.  "Proof" of his service can be found attached to other case files!  Specifically, the pension claim of James Bailey (serving under Captain Thomas) include a verified list of those serving under Captain Thomas – and our James Ward is listed!
James Bailey, a resident of Americus, GA in 1874, managed to get Captain Thomas to submit documents in support of his pension claim in December 18747 – 13 years after James B. Ward died. Mr. Bailey's file contains 51 pages, which is more typically of those who filed successful claims.  In comparison, James B.'s file only contained 16 pages.
Figure 15 – Fort Mitchell, February 20, 18148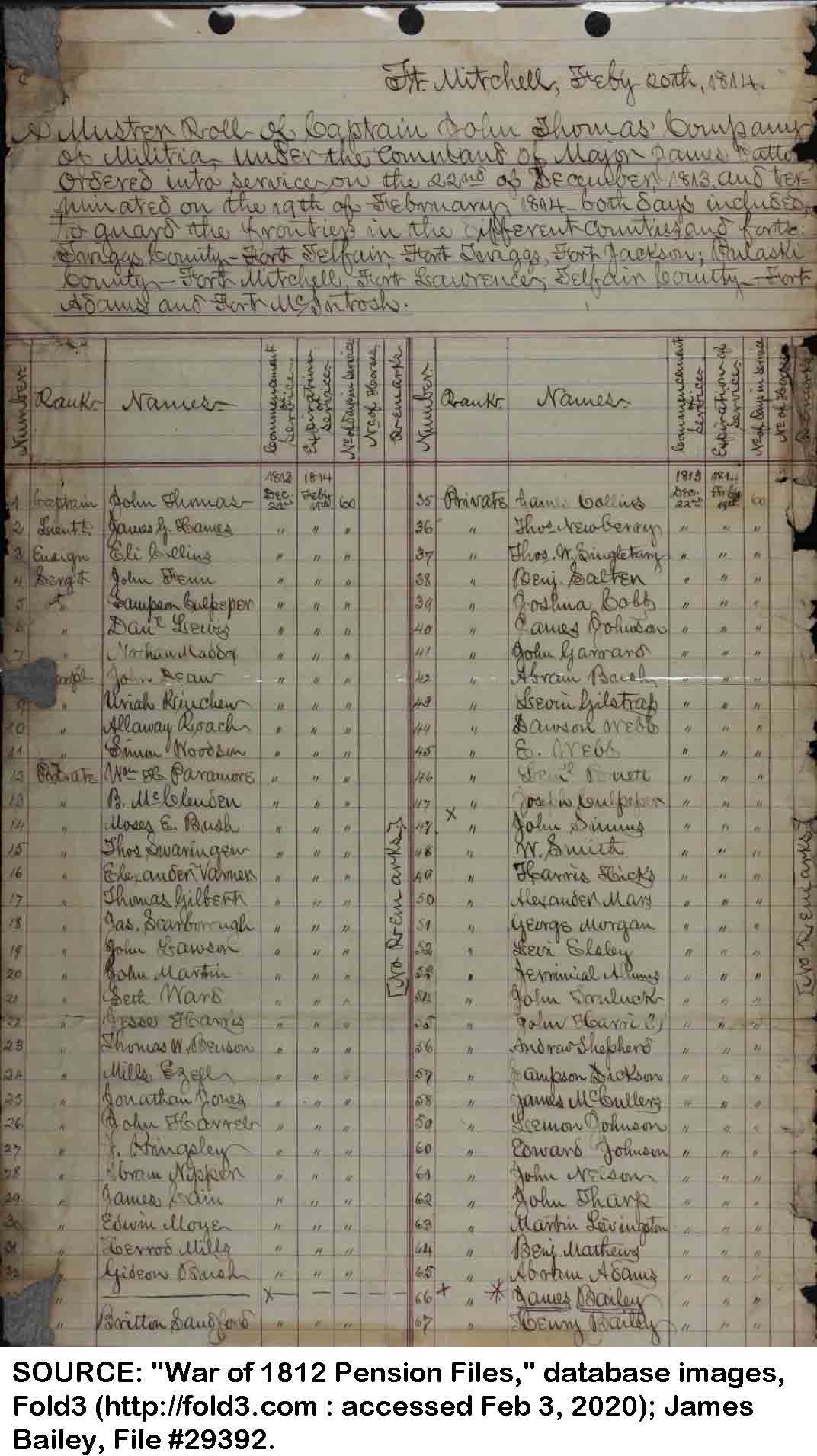 Click image for larger view.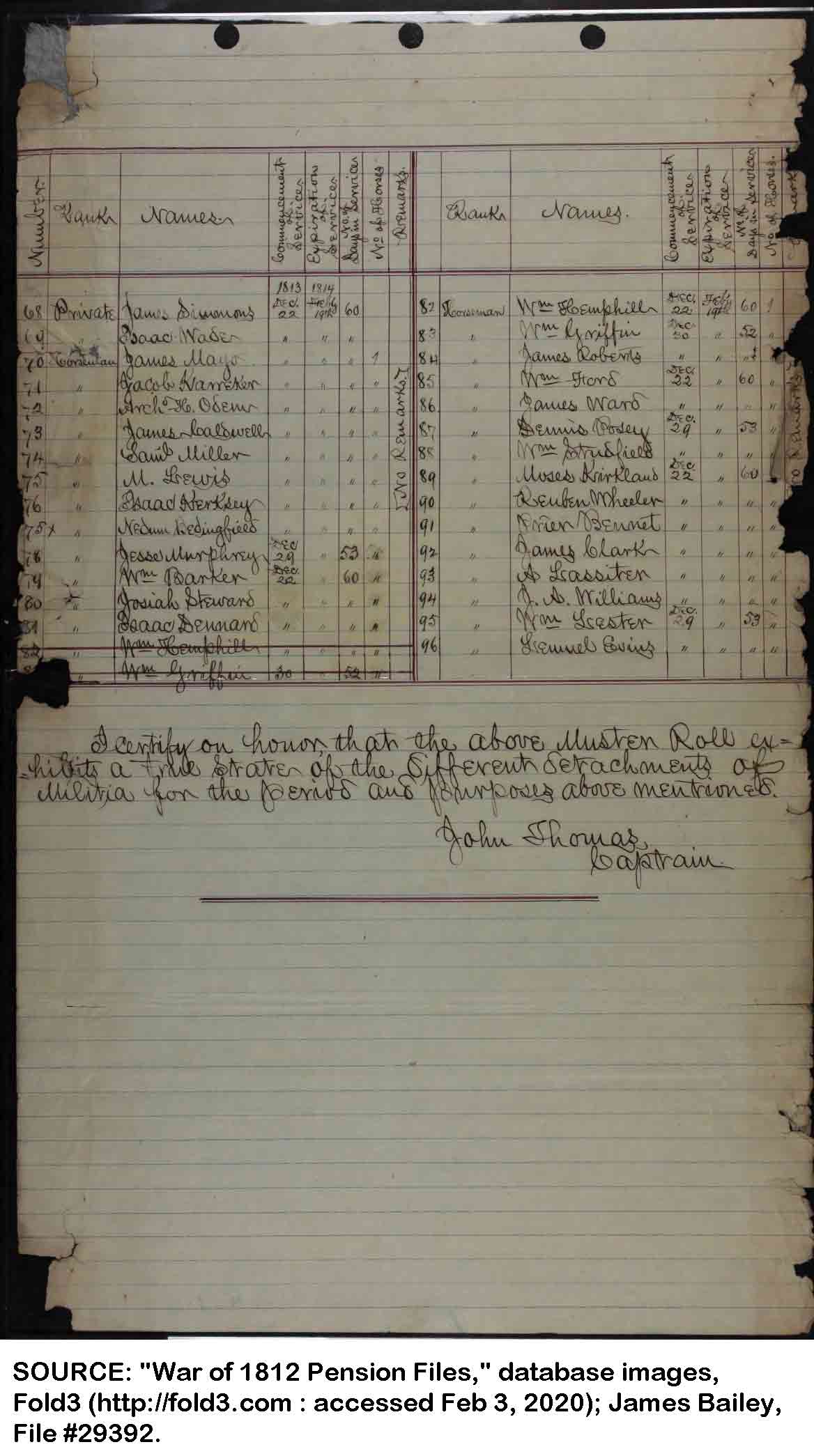 Click image for larger view.
Figure 16 (above), shows two of the documents found in James Bailey's case file – which provide proof for James B.'s Bounty Land Claim.
Captain Thomas, sworn, lists James Ward as one of the horseman who served from December 22, 1813 through February 19, 1814 – a total of 60 days – at Fort Mitchell.  James B.'s correct rank appears to be "horseman" instead of "private." This difference may have contributed to his pay records not being found and the government's inability to verify his service dates.9
Ironically, James Bailey could not remember the name of his commanding officer.  Furthermore, he said he enlisted in Hartford, GA "on the about 25 day of December 1811" and was discharged at "Marion, Twiggs County, GA on the about 25 day of February, 1812."  It was not uncommon for these elderly men, who had served close to 50 years prior to becoming eligible to file their claim, mixed up their dates and couldn't remember names.  The Treasury Department did not find James Bailey on the Rolls of Captain John Thomas, either.  However, the Department of the Interior later provided a copy of Captain Thomas' muster rolls to the Treasury Department. James Bailey said he was in service at Fort Telfair on the Ocmulgee River, which was in Twiggs County back then, below where Macon County, GA is now.  He did not say what he did while in service.10
This collection of documents proves James B. Ward served at Fort Mitchell during the War of 1812 when he was 17 or 18 years old!
Using today's geography, Fort Mitchell is located a few miles south of Phenix, AL in Russell County. It was built in 1813 by General John Floyd on the west bank of the Chattahoochee River and named in honor of David B. Mitchell, the governor of Georgia.  The fort was strategically constructed along the Old Federal Road between Augusta, GA and St. Stephens, AL Its location made it a meeting place for the Indian Chiefs as well as military leaders.  It would have been less than a year old when James B. was there.  By 1818 the Creek Indian Agency was established at the fort with John Crowell as agent.  A "factory," i.e., trading post with the Indians, was moved from Fort Hawkins to Fort Mitchell around 1817 making Ft. Mitchell the primary trading site in the area.  After the Treaty of 1832, when the Creeks ceded 18,000 acres of their tribal lands to the U.S. Government and later moved to Indian Territory (Oklahoma), the Creek Agency and fort ceased to exist.  The buildings became part of Crowell's private property and, much later, became a historic site.
The following letter provides a little more insight into the state of affairs during the short time James B. served at Ft. Mitchell:
December 12, 1813
Camp Mitchell
His Excellency, Governor Early
Sir:
I herewith forward you the pipe of the old Talisee, or tame King, taken at the battle of Autosee, the friendly chiefs observes, that it was the pipe of the greatest man in their nation, and for many years there king, but he has grown old, and foolish, had forsaken them, that he was now dead, and that as none of his successors had acquired sufficient dignity to be entitled to it, Requests that I should send it to my King (meaning your Excellency).  It is valuable for its Antiquity, this once respected and venerable Chief used this pipe at the treaty at Shoulderbone, and how long before is unknown.
I have the honor to be with much Respect & Esteem, your Excellency, Ms Oba Sert.
                Brig. Genl. Jno Floyd11
About the time James B. Ward was being discharged, the following letter was sent from the Creek Agency regarding Fort Mitchell:
Camp Near Fort Mitchell
Feby 16th 1814
Kendall Lewis, with a detachment of warriors of Cussetau.
You are apprised of the information given by Mr. Barnard of hostile appearances in his neighborhood and thirty miles below; and particularly of a party stealing cattle near his residence and from his cow range, and it is conjectured by him, driving them where two large trails were moving to a junction and supposed to be hostile and the main body.  The chiefs here have no information to induce them to expect hostility any where among the Lower Creeks, yet I think it is necessary to act in the present case, as if the whole of Mr. Barnard's apprehensions were founded on truth.  I have ordered out from Auputtoie 40 warriors or 50, To go, to trace up the thieves and punish them.  It is probable they are Uchees, and some Tuttoloose Ulgee.
Will accompany the Chiefs and Warriors and be governed by the following.
   1st – Take such directions as will intersect the cow trail of the thieves and track them up.  Wherever you find them, surround and fire on them and capture or put to death the whole party.  You must spare the women and children, and bring them off prisoners.
   2nd – If you should find the party too strong for you, send a runner to Auppotosie for more warriors, and a runner to Fort Lawrence for such aid as can be furnished from them.  You will send a runner to Mr. Barnards for such information as he can give.  Your enterprise being accomplished, you will return with your warriors and report to me at this place.  As you will want beef kill whenever you see and report for payment to their owners.
Benjamin Hawkins
Agent for Indian Affairs12
The Creek Indian Agency (located at the town of Cusseta, which was near Fort Mitchell) and the town of Cowetta (the "capital" of Creek Nation at this time), were often visited by Col. Hawkins and many of his letters are dated from these sites.
Are there any documents that prove James B. Ward served as a spy?  Yes!  On page 147 of the book by Stephen Franks Miller,  Memoir of Gen. David Blackshear -- Including letters from Governors Irwin, Jackson, Mitchell, Early, and Rabun, and from Major-General Mcintosh, Brigadier General Floyd, and other officers of the Army in the War of 1813-14 on the Frontier and Sea Coast of Georgia, published in 185813, it lists the following as spies used by Major Patton at Ft. Mitchell:
William Ford
James Ward
James Clark
Archibald Lester
It is unknown what, if any, "action" James experienced during his short time as a volunteer in the Georgia Militia.  However, the following provide some insight into what was happening shortly before and after he served in 1813-4:
September 8, 1814 – Hartford, GA – Col. Allen to Gen. Blackshear – Sir:  I have this day received information from Christian Linebaugh, assistant agent, which contains alarming news; and, in order that you may be fully acquainted with the same, I hereunto annex a copy of the official note received for your perusal:  Chattahoochee Camp, near Fort Mitchell, Sept 4 1814 – "To the Inhabitants of Pulaski county and the town of Hartford  ––  It becomes my duty to make known to my fellow citizens of Georgia that I have received information from down this river that the Seminole Indians are preparing to make an attack upon Hartford or this place.  They have as yet not determined at which place they will strike first.  If the information I have received is correct, Hartford, or that neighborhood, will be the first place they will aim for.  I think it would be advisable for the inhabitants to be watchful, and have guards and spies out in that quarter, and be prepared for the events.  In a short time we shall know how affairs will be with these Lower Indians.  I am, very respectfully, your obedient servant, Christian Linebaugh, Principal Assistant-Agent for Indian Affairs Creek Nation."14
September 17, 1814 -- Georgia Governor Early to Gen. Blackshear (written from the GA Headquarters, Milledgeville, GA) -- It being represented to the commander-in-chief that the Indian frontier on the counties of Twiggs, Pulaski, and Telfair is menaced with depredations from the hostile Indians, Brigadier General Blackshear will order some prudent and judicious officer, with a patrol of cavalry, consisting of twenty privates, armed with guns, to explore the country between the Ocmulgee, opposite Hartford, and Flint River, at, below, and above the Hitchee Town.  The object of the expedition is twofold:  first to ascertain whether any hostile Indians are lurking in that quarter; secondly, to ascertain the best practicable route for a road from Hartford to Flint River, striking the latter below the mouth of We-cuy-wau Creek.  The officer who shall be ordered on this service will be charged carefully to avoid any interruption with friendly Indians.  By order of the commander-in-chief, Anthony Porter, Secretary.15
September 19, 1814 -- General Blackshear to Captain Richard Thomas -- Sir:  I am directed by the commander--n-chief of this State to order some prudent and judicious officer, with a patrol of cavalry, consisting of twenty privates armed with guns, to explore the country between the Ocmulgee, opposite Hartford, and Flint River, at, below, and above Hitchee Town.  The object of the expedition is twofold:  first, to ascertain whether any hostile Indians are lurking in that quarter; second, to ascertain the best practicable route for a road from Hartford to Flint River, striking the latter below the mouth of We-cuy-wau Creek.  I have, therefore, with the public interest alone in view, thought proper to call on yourself.  You will with the least possible delay take the aforesaid number of privates, who will furnish themselves with about six or seven days' provisions, and arms as above directed, and perform the said tour of service; and at the same time be careful to avoid any interruption with friendly Indians; and immediately on your return make your report to the commander-in-chief.  Believe me to be, with the highest consideration and respect, sir, your humble servant, D. Blackshear, Brigadier-General.16
December 8, 1814 – Order from Maj. Gen. McIntosh to have Capt. Williams's and Capt. Thomas's companies consolidated into one in Col. Wimberly's regiment.17
December 16, 1814 -- Georgia Governor Early to Gen. Blackshear , from Milledgeville, GA:  Sir:  I have just received, by Major Grey, your letter of yesterday.  You will consider yourself authorized to take with you such of the Stat's tools at Hartford as you may deem necessary or useful.  Captain [Richard] Thomas's troop of cavalry in the county of Pulaski is in a constant state of readiness for service, and his company must be the one which shall attend you.  You will therefore apprize him of this as early as possible, and issue to him the necessary orders.  The time at which it may be most advisable for him to leave Hartford and pursue you must be left to your judgement.  The length of time it may be expedient for him to remain with you, depending on events yet to happen, cannot now be prescribed.  But, whatever the objects of your movement down Flint River shall be accomplished, it will be proper that he should return.  I enclose you the chart made by Captain Thomas of his route last September.  The company infantry intended to garrison your depot must be drawn from the first class remaining in the county of Twiggs or Pulaski, or from both, as you may deem most advisable.  And, as those counties are within your brigade, you will issue the necessary orders accordingly.  I presume that if this company shall overtake you by the time at which you shall have completed your fort it will be sufficient.  The arms and accoutrements necessary for their use must be taken from those belonging to the State at Hartford.  I am, very respectfully, your obedient servant, Peter Early.
December 23, 1814 – Orders from General Blackshear to Capt. Thomas to hold his troop of horses of one hundred men in readiness to march on a tour of five months.18
December 23, 1814 – Orders to Capt. Groce to hold in readiness all the first class of Pulaski County militia, and to apprize Major James Patton of the time and place of rendezvous.19
December 23, 1814 – Gen. Blackshear to Major James Patton, Sir: Agreeably to orders from his Excellency the Governor of this State, you will cause all of the first class of the frontier-districts of Twiggs County to be warned to hold themselves in readiness to march at the shortest notice and join the first class of Pulaski County under the command of Captain William H. Groce, at such place of rendezvous as you may heareafter be apprized of, and who will form them into one complete company, and march when and where ordered, prepared to serve six months, unless sooner discharged.  It is to be understood that when the first class of your country are called out they are to be conducted by some vigilant officer of the militia to the place of Capt. Groce's rendezvous. Believe me to be, with the highest consideration and respect, your humble servant, D. Blackshear, Brig. Gen. 2d, Brig. 5th Dis. G.M.20